Conductive Keratoplasty Astigmatism Treatment in Los Angeles
The 8-minute conductive keratoplasty procedure is done in our office. Immediately following the procedure, a corneal map is typically taken to assess the level of improvement. If there can be further improvement, additional CK spots are then simply added. Another corneal mapping is performed to confirm that the proper endpoint has been attained. Conductive keratoplasty is often combined with Intacs®, since CK can provide further improvements to eyesight and supplement the improvement of Intacs® alone. Intacs® and conductive keratoplasty are routinely performed on the same day.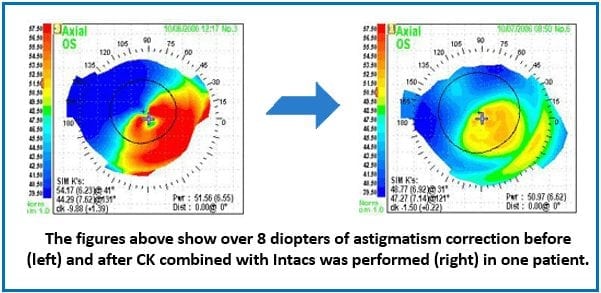 How Conductive Keratoplasty Works
Conductive keratoplasty works by using radio-frequency (non-laser) energy that is strategically delivered to the cornea by a small probe. A tiny probe applies heat to the outer cornea at the precise area where astigmatism reduction is needed. The heat causes a local tightening effect against astigmatism, which can reduce astigmatism and improve eyesight. Immediate improvement in the cornea shape is noted, as evidenced by the new corneal topography mapping. The potential risk of CK is a regression of effect. Thus it's crucial that conductive keratoplasty is combined with Holcomb C3-R® (or performed after it) to reduce CK regression and boost long-term results.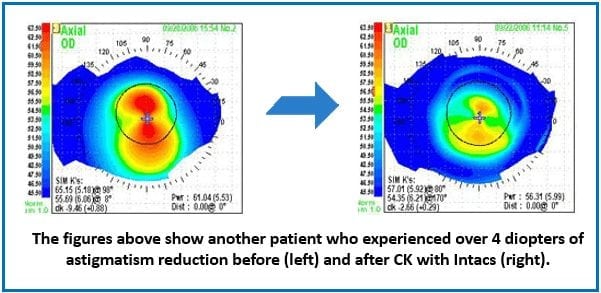 CK was originally developed for farsightedness and presbyopia, which involved using the probe to create a symmetrical circular pattern to change to the cornea. Our insights into keratoconus have enabled us to understand the principles responsible for the irregular corneal shape that defines keratoconus and how to improve it. Conductive keratoplasty has been a successful addition to reduce astigmatism and further improve the corneal shape. This has resulted in greater improvements in vision.
Dr. Brian's Keratoconus Patient Experience
Dr. Brian Boxer Wachler is a recognized Keratoconus expert who offers various advanced keratoconus treatment options for patients experiencing keratoconus symptoms. He performs the Intacs® procedure as well as corneal collagen cross-linking, all of which can help the patient avoid having to undergo corneal transplant surgery.
To learn more about Keratoconus causes and the various treatments, please peruse the pages of this website and contact our office to schedule a consultation with Dr. Brian.
Out-of-Town Patients
In our practice 58% of keratoconus patients travel from out of town (including out of state and out of the country). If you are interested, Dr. Brian can provide a complimentary record review prior to you scheduling an appointment at the institute. This will not only help to determine initial candidacy but also provide you with an estimate of pricing to help you prepare financially for the trip.
How to Contact Keratoconus Specialist
A records review (for vision correction or Keratoconus procedures) is easy and the first step to improving your life. Here's how to submit them to Dr. Brian:
Request a copy of your most recent eye exam from your doctor – be sure they include your manifest refraction (prescription) with best corrected vision.
Request a copy of your most recent cornea map (topography).
Write a brief cover sheet explaining your current vision and situation.
Include on the cover sheet the best phone number and e-mail to contact you.
Scan & E-mail
Sending By Mail
Boxer Wachler Vision Institute
ATTN: Records Review
465 N. Roxbury Drive, Suite 902
Beverly Hills, CA 90210